If you want to learn marketing, you must first learn Sri Lankan culture; then you can absorb 80% of the theories you learn from the western context
---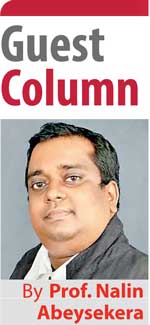 Now the subject of "marketing" has become popular among the general public and "the most sought after" by all. We have learned many theories and concepts from the West and we must not forget the best practices of "Sri Lankan marketing". There are many examples we need to discuss about this. The following can be taken from a book review I did for the South Asian Journal of Marketing.
"… Additionally, there is an interesting observation in Marketing 3.0 where according to Marketing 3.0, instead of treating people as consumers, marketers need to approach them as full human beings with a mind, heart and spirit. This argument goes hand in hand with Buddhist philosophy as well. Matsuoka (2005) discusses this point in an article entitled "The Buddhist Concept of a Human Being". The article explains how the Shakyamuni (religious Buddha) movement attempted to achieve a moralistic revolution in society by reforming the hearts and minds of the individuals in that society.
"Buddhism offers methods for clarifying the mind, opening the heart, and dealing with the realities of human life. Evidence of this can be seen in the history of the countries where Buddhism is practiced and in their civilizations. We can also see the same "human" approach to relations in business practices in these countries. I recently read the success story of Maliban Biscuit Company, run by Angulugaha Gamage Hinniappuhamy, of Akmeemana, Galle District, Sri Lanka, which reinforced these points.
"It was like this – Hinniappuhamy arrived in Colombo (over 125 kilometers from the countryside, 50 years ago). He received good advice from his mother before leaving his village. His mother reportedly said, "Son, you can leave the village and go to Colombo, but remember that whatever you do, it must be in accordance with the teachings of the Buddha and have the blessing of the gods". Taking this advice to heart, Angulugaha Gamage Hinniappuhamy and his brothers started their biscuit business.
"The sons also appreciated the advice to only give consumers products that can be safely given to their own families and children. They first tasted the cookies before giving them to customers. It could be argued that it was by applying the teachings of the Basic Principles in their culture and traditions that they understood the hearts, values ​​and minds of their clients. This means that Marketing 3.0 was implemented in Sri Lanka in the 1940s. This is one indication that there is a need for academics and practitioners to study the value systems and traditions of people in the past to read different perspectives, which is essential for adding new knowledge to the existing field of topics such as marketing. (Abeysekera, 2020).
And also, there can be many practices and implications that can be discussed in this context. One of the best examples is 'Kataragama' and 'Kalu Dodol'. Once at the Kalu Dodol boutique, the Mudalali always offers a piece of "Kalu Dodol" to taste. Then we can decide to buy or not to buy. This is unique in Sri Lankan culture. Anyway, in Western theories we discussed it as part of Integrated Marketing Communication (IMC) as a sales promotion strategy. Nonetheless, if you learn and conduct such practices from a book, you could not have this "natural happiness" that we need to critically assess further. In fact, if you want to learn marketing, you have to learn Sri Lankan culture first; then you can absorb 80% of the theories you learn from the western context.
And also, the subject of marketing existed two or three decades ago as a "luxury product" used only by a "brand segment" and could not be accessible to the general public. For this reason, I want to propose to teach and disseminate knowledge in 'marketing' more with best practices in the Sri Lankan context. Learn something from this and follow the marketing that suits the country ie "our marketing method" which is very similar to when Romesh Kaluwitharana got behind the stumps and exclaimed "Ohoma Yan (we go together) "in Sinhala which is also one of the indicators for us to win the 1996 World Cup.
And also, most of the time, we have observed experts using "English" to teach the subject of marketing. It can be commendable. But for entrepreneurs in Sri Lanka, I offered to teach and disseminate the subject of marketing in their mother tongue (Sinhala or Tamil) because around the world research has proven that mother tongue is still important to instill imagination and creativity to all.
So there is a need for experts and academics in this field of marketing to come together and investigate 'indigenous marketing' in Sri Lanka, which would also be a way for us to learn best practices of Sri Lankan culture.
The references
Abeysekera, N. (2020), Book Review: Marketing 4.0: Going from Traditional to Digital by Philip Kotler, Hermawan Kartajaya, Iwan Setiawan, South Asian Journal of Marketing, Volume 1, Issue 1, PP178-181
---
(The author is Professor of Management Studies at the Open University of Sri Lanka and can be contacted via [email protected])
---